MY MEOW MEOW GALLERY
the narrator (fight club)
he is just so incredibly freakish and pathetic. a mentally-ill office employee homoerotically obsessed with his soap-salesman imaginary best friend, newly dedicated to self-destruction, so sexually repressed his libido is becoming a metaphorical diamond. he beats himself to a pulp for fun, and has such a great time doing it that other people join in and his destructive alter-ego spawns an impeccably organized domestic terrorist organization. like what. he's the character equivalent of the "men will do x instead of going to therapy" meme.
josef/aaron (creep franchise)
HE IS MY PET FREAK!!! i want to hang out with him so bad. he would make green smoothies and we would go on a hike and talk about coppola and the nature of art and he'd inevitably freak out and i'd pet him on the head and then he'd be fine again... little dog man. maybe he would sing me the peach fuzz song! maybe we would play hide and go seek! he would almost definitely kill me at some point but it would be fine, sorry to sara but i would've just let him. if it helps him get back in his artistic groove, who am i to stop that?
freddy newandyke, aka "mr. orange" (reservoir dogs)
besides the obvious appeal of tim roth bleeding on the floor, freddy is an absolute dork and that's incredibly endearing. his apartment covered in comic book posters, the dorky way he tries to hype himself up in the mirror... the man is a bit of a mess and i love him for it. also, he's fruity as hell for getting attached to mr. white so hard and fast when he's supposed to just be on a job and frankly the scenes with them together after the heist are heart-wrenching. tarantino owes me for psychological damages.
dexter morgan (dexter)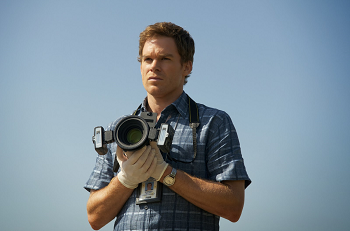 where to begin... he's the blueprint, he's husband material, he's the most lovable man in the world. also he's autistic.
adam faulkner-stanheight (saw franchise)
words
edward nashton/the riddler (the batman)
words
more:
dale cooper (twin peaks)
bruce wayne, aka "batman" (the batman)
mark hoffman (saw franchise)
patrick bateman (american psycho)
stu macher (scream franchise)
norman bates (psycho franchise, bates motel)
brian moser (dexter)
ephraim winslow/thomas howard, aka "young" (the lighthouse)